Te koop: Pyrénées Orientales OLETTE
Imposing architect designed individual three bedroom house with swimming pool and stunning mountain views
De vraagprijs voor dit huis bedraagt € 265.000. Het huis in Zuid-Oost-Frankrijk is geschikt voor maximaal 6 personen
Dit huis staat vermeld op de website van Vakantiehuis Frankrijk De meeste huizen op de website van Vakantiehuis Frankrijk zijn vakantiehuizen die te huur worden aangeboden. Maar er zijn ook vakantiehuizen die te koop worden aangeboden zoals dit huis in OLETTE. Deze huizen zijn meestal ook geschikt voor permanente bewoning. U bent dus niet verplicht om ook te gaan verhuren. U kunt het huis ook uitsluitend zelf of voor familie en/of vrienden gebruiken. Neem gerust contact op met de aanbieder van dit huis indien u hierover geïnformeerd wilt worden.
Fotoalbum

Klik op de fotoalbum button of op een foto voor het openen van het fotoalbum met 21 foto's.
Door op de email button te klikken kunt u met een contactformulier een bericht aan de verkoper zenden. De verkoper zal daarna zo spoedig mogelijk met u contact opnemen.
EMAIL DE VERKOPER
Omschrijving van dit huis in de Pyrénées Orientales Zuid-Oost-Frankrijk:
The front of the property is set slightly back from the road with parking spaces opposite. The front garden is swtoned with rose bushes and trees. The front door leads into a spacious hallway with radiator ,fitted cupboards and pegs for shoes, coats etc. There is a toilet and washbasin and double bedroom 3/study, with TV and Phone points and an electric radiator. The kitchen/ dining room is well equipped , fridge/freezer, washing machine, dishwasher, range style cooker, with quality units and double French doors leading into the garden and patio area. A roomy pantry leads through to the large garage with adjacent workshop. Quarter turn hardwood stairs lead into the upstairs living room, a large, airy and light room with a woodburning stove, electric radiator, TV and telephone points, two double French windows leading onto a large covered balcony with magnificent views over the village and the mountains. The landing from there leads to the further two bedrooms, both double with radiators and TV and telephone points;one with en suite shower, toilet and vanity unit plus electric towel rail. The other double bedroom has fitted wardrobes with mirrored door. There is a storage cupboard and then the bathroom with bath. over bath shower, toilet and vanity unit plus electric towel rail. All the rooms are a good size, light and airy with lovely views and in good decorative order.See Plans for further details
De omgeving van deze koopwoning in Languedoc Roussillon :
The house is situated on a quiet street above the main part of Olette, a small village with a Medical Centre, School, Pharmacy, Post Office, Library, Bar, Church, Hairdressers, Garage, a Butchers shop with small grocery and wine section and an excellent Boulangerie, Patisserie which also sells some groceries. A small weekly market provides fruit and vegetables and local cheeses. There is a small childrens' playpark with multi sports surface and the river running through Olette for fishing. There is a bus service for 1 Euro and a strain station for the popular Little Yellow Train which runs all year round from Villefranche de Conflent, a historic small walled town, to the Spanish border at La Tour de Carol. Olette is situated in the foothills of the Pyrenees, having magnificent walking and cycling tracks. Hot springs can be found nearby with Thermal Cures at Vernet-les- Bains. nestling on the slopes of Mount Canigou, as well as a large outdoor pool complex with slides and indoor pool, Horse riding centre, Arboretum, Museum and Casino plus English Protestant church with the only English style ring of bells in France.Thermal swimming pools are open all year round at St. Thomas les Bains. Winter sports can be found at Les Angles, 40mins for the village, and Bolquere Pyrenees 2000 34 mins. In the Summer months the lakes of Matemale and Les Boulousses are favourites for water sports, childrens' activities cycling and horse riding. In the opposite direction Prades , the nearest town, is only 15 mins away with shops, cinema, supermarkets etc. Prades hosts a large Tuesday market and a little bus runs from Olette and back again especially for this. There is also a local producers market every Saturday morning. There is also a sports hall there and swimming pool many clubs and a Riding Centre. and Fishing lake. Vinca has a large lake for fishing and water sports during the Summer months and 50 minutes away is Perpignan the nearest large city, the ancient Capitol of the Kings of Majorca, with its magnificent Castle and walls as well as art galleries, museums,theatres and many shops. The coast is a little further at Canet Plage, around 1 hour away with long sandy beaches, water sports, cafes and restaurants and a harbour. Other beautiful restorts can be found all along the coast towards the Spanish border at a little over 1 hour 30 minutes distance from Olette from Argeles-sur-Mer with its' fantastic beaches and harbour area to Collouire, historic fishing village and haunt of many famous artists. A large part of this coastline is a Marine Reserve with snorkelling and scuba diving available.
Voor uw oriëntatie: OLETTE ligt in de buurt van de plaatsen: Prades, Vinca, Villefranche de Conflent.
Toon landkaart
Informatie voor de koper:
The house was built in 2012 so is in excellent condition and well insulated. All the windows are double glazed with wooden shutters on the ground floor windows and doors. There are electric radiators in all rooms and woodburners which all come with the property. The living room has a woodburning stove which is sold with the property as are fixtures and fittings in all rooms including most blinds and curtains. The property is situated in well stocked and interesting gardens on three levels. The kitchen has a woodburning stove, Range style cooker with 3 electric ovens and gas hobs, a washing machine, a dishwasher and a fridge-freezer which all come with the property. Outside the kitchen/dining room is a terraced area with pergola and built-in barbecue. A large TV dish,and washing lines, sited in the upper garden, come with the property. Steps lead down to the main garden area where there is another terrace and the swimming pool 8m X 4m X 1.5m with corner steps, cover and Summer cover and rouleau,all sold with the property, The nearby cellar with mezzanine, housing the pool ,pumps and garden furniture and tools. Non of the garden furniture or tools are sold with the property but the buyers could negociate for the pool furniture and garden furniture if desired. The bottom part of the garden has a childrens multi swing which is sold with the property. All shrubs and trees etc come with the property. There is a small watering canal running down the West side of the garden for which the owners pay about 20 euros a year. The Taxes Fonciere for the house are 1440 euros per year. The Water Rates are around 400 euros a year. The house has mains drainage, electricity, internet but no mains gas.

EMAIL DE VERKOPER Fotoalbum



Over deze woning zijn nog de volgende bijzonderheden te vermelden:

Grote tuin

Balkon met uitzicht

Zwemmeer in de buurt

Eigen parkeerplaats

Rustige omgeving

Heel mooi uitzicht

Eigen zwembad

Vrijstaand huis

Open haard

Complete keuken
Sportieve mogelijkheden in de nabijheid:

Wandelen

Fietsen

Zwemmen

Vissen

Tennissen

Wintersport / Ski / Pistes

Bergsporten

Paardrijden

Windsurfen / Zeilen
Andere huizen die te koop staan in de omgeving van het hier omschreven huis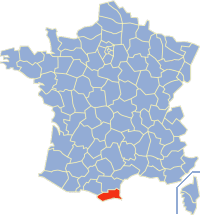 Indien dit (vakantie)huis in OLETTE voor u niet geschikt is dan hebben wij diverse alternatieven voor u in OLETTE en in de nabije omgeving van OLETTE gevonden.
Klikt u op de onderstaande links voor een overzicht van de (vakantiehuizen) die te koop staan of ga direct naar onze zoekpagina met alle
huizen in Frankrijk
die op onze website te koop worden aangeboden.
U kunt ook alle vakantiehuizen in
Zuid-Oost-Frankrijk
bekijken. Benieuwd naar de andere huizen in
Pyrénées Orientales
die te koop zijn? Of wilt u in iets groter gebied zoeken in de regio
Languedoc Roussillon
waartoe Pyrénées Orientales behoort?
Wilt u de omgeving van dit huis gaan verkennen dan kunt u overwegen om een weekje een vakantiehuis in de buurt te gaan huren? Dan kunt u de volgende links gebruiken en krijgt u de vakantiehuizen te zien waarvan u gebruik kunt maken.
Zoekt u speciaal in een plaats of rondom deze plaats?
OLETTE
of gebruik de onderstaande links en mogelijk vindt u dan meer huizen die voor geschikt zijn.
Prades
,
Vinca
,
Villefranche de Conflent
De voordelen van vakantiehuis-frankrijk.nl
Vakantiehuis-Frankrijk.nl is een organisatie die zich vanaf 2003 bezig houdt met dienstverlening voor particuliere huiseigenaren in Frankrijk die hun dierbare vakantiewoning willen delen met andere Nederlanders en Vlamingen. Op deze manier kunnen de Nederlanders en Vlamingen die zich (nog) geen 2e huis in Frankrijk kunnen veroorloven toch op een betaalbare manier genieten van de prachtige huizen op de mooiste locaties in Frankrijk. Maar de eigenaren kunnen hun huis in Frankrijk, zoals u ziet, bij ons ook te koop zetten. Dus voor huren en kopen bieden wij u een mooi aanbod van (vakantie)huizen. Dit is de formule voor een onvergetelijke vakantie of het oneindige genot van het bezit van uw eigen (tweede) huis in Frankrijk.
Inmiddels hebben circa 1200 eigenaren zich bij vakantiehuis-frankrijk.nl aangesloten en hebben de afgelopen jaren vele tienduizenden Nederlands en Belgen tot groot genoegen hun vakantie in een vakantiehuis, bungalow, villa, gite of appartement in Frankrijk doorgebracht.
U vindt overigens ook bij ons kastelen die gehuurd kunnen worden alsmede boerderijen, gîtes, chalets, studio's, vakantiehuisjes op een kleine camping of een heerlijk huis op een groot Frans landgoed. En er is keus genoeg tussen goedkoop en exclusief
Meer informatie over alle vakantiehuizen.