Gite for rent in the Manche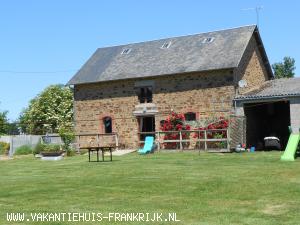 This page belongs to the Dutch website of www.vakantiehuis-frankrijk.nl.This site is the popular website for rentals in France and houses for sale in France. We have over 1,000 cottages, villas, apartments, studios, castles, bungalows, gites, houses from private owners on our website.
On this page, you will see a short description of this accommodation in Normandie for rent in driving distance from Le Mont St Michel, L'Ange Michel Water and amusement park, and Les Cascades Mortain. If you are interested in renting this house in North-West France, you can use the link in the menu in the top left of your screen. By clicking the link, you can send an e-mail to the private owner of this rental in St Hilaire du Harcouet.This area is also known as Normandy. From him or her you can get all the information you need for your vacation in Normandie.
This holiday rental in West France is offered you directly from it's private owner.
The details of this property are entered online by the owner and he/she has defined this holiday accommodation as: Self catering gite 7 people disabled access, wheelchair friendly
Type of accommodation holiday home, gite, farmhouse.

Details farmhouse Suitable for 7 or less in Normandie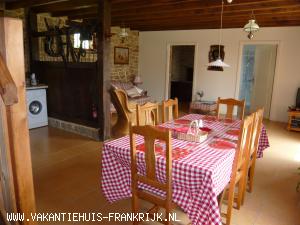 Sleeps 6-7 people, 3 bedrooms and 2 bathrooms, (ground floor double bedroom with ensuite.) Flexible changeover, catering and Wheelchair access
Wifi, all linen provided.

We have converted the old stable block to self catering accommodation retaining many original rustic features combined with modern comfort to create a "home from home".

On the ground floor there is an ensuite bedroom fully adapted for people with impaired mobility. Including wheel in shower with seat, grab rails and specially adapted W.C. All ground floor doorways are extra wide. Guests can enjoy wheelchair access via a wrap around decking to the front and side.

On the first floor there is a twin and double bedroom and an additional shower room with toilet. The landing area is very spacious and is perfect for reading or just relaxing and enjoying the beautiful view. There is also a futon available and a camp bed can be added to the double room if needed. All the usual amenities are provided, including linen and towels. If you are travelling with baby or toddlers, we also provide a highchair, travel cot, stairgate and baby bath


Outside on our 300 sq m of lawn we have swings, trampoline, zip wire and slide for the children to play on. We provide a welcome pack with tea bags, coffee sachets, milk, sugar, washing up liquid. Sometimes it's nice to let someone cook for you on the first day, to give you time to settle in and get your bearings. We can provide a hot or cold meal as you wish for all of your party.

View our photoalbum


Holiday Home in dep. Manche.
Nearby: Les Cascades Mortain, L'Ange Michel Water and amusement park and Le Mont St Michel.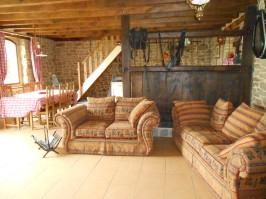 Saint-Hilaire-du-Harcouet is a large market town, only 5 minutes away from Les Cours. There is a large public park and two lakes, and this area covers 3.5 hectares. Lots of bars, restaurants and shops give the town a very lively air, and unusually for this area, Sunday morning finds the town bustling. There are restaurants for every occasion, from sandwiches, plat de jour,Less than 15 minutes away is Mortain, which has a panoramic view of the bay from 'Le Petite Chapelle.' Here is a monument to honour Eisenhower in the memory of the WW2 Battle of Mortain. The view from here is quite outstanding, and is illuminated at night. Also in Mortain, reached from the car park, are two waterfalls, 'La grande' and 'La petite.' Picnic areas are provided at each, and the rocks and scenery provide great photographs.


L'Ange Michel is a fantastic family day out and is only 20 minutes from us. The attractions include karting, "Aquasplash" (speed slide in a boat), water park, roller coasters, flying chair, Merry-go-round, roller coasters, horse riding and many more. Enjoy the beautiful scenery of this magical, natural and welcoming place. There is also catering on site.


Nearby Fougeres is an old walled city with a wonderful chateau, the grounds of which are accessible by wheelchair. Also if you walk anti-clockwise around the castle, you will find a wonderful medieval area of old twisted houses. These are well worth a photograph. There are lots of restaurants, cafes and shops around the chateau. Further into the town, near the theatre is a big square with fountain, which also has lovely restaurants for lunch, and light meals such as galettes. Fougeres also has a bowling alley and cinema by 'The Forum de la Gare' shopping area.

If you wish to visit Le Mont St Michel, a wheelchair could only access the first level, restaurants and shops. You could park at Beauvoir, and walk as far as you wished towards the Mont. This gives you the wonderful scenery and views, without the hassle of crowds. pizzas and top class hotels. There is also a swimming pool here and cinema. The beaches nearby (well within the hour) are very safe and accessible with wonderful scenery. he American Cemetery at St.James is easily accessible by wheelchair, and the staff here are very helpful if you have any enquiries to make.



The beaches nearby are very safe and accessible with wonderful scenery. Carolles is our favourite beach, as one side has rocks and rock pools where you can see people collecting shellfish. The other side has a large smooth area of sand. Further up the coast the scenery becomes more rugged with great cliff views. Granville is a lovely historic town to visit, but the beach is not as good as Carolles although it does have a promenade suitalbe for wheelchairs. Christian Dior gardens here are easily accessible, and have free entrance. The museum is in the gardens too, but there is a charge for entrance.Whatever type of holiday you want, you will find it within this area on the Normandy/Brittany border, and we will always be happy to point you in the right direction.

Bayeux is a wonderful mediaeval town full of interesting streets, shops and restaurants not forgetting the famous tapestry. A unique masterpiece in the world, the Bayeux Tapestry is actually an embroidery made from wool on linen canvas during the 11th century. 70m long and 50cm high, it recounts, simply but with a wealth of detail, how and why William the Conqueror conquered England on 14 October 1066. Unaccompanied visit to the exhibition and audiovisual rooms also a Tapestry visit with earphones (11 languages simultaneously).

Rental farmhouse in the French region Normandie
Indication of the rental prices per week:
Low season: 555 euro, Mid season: 600 euro, High season: 650 euro.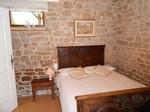 Month Price in Euros

April 555
May 555
June 600
July 650
August 650
September 570
October 555

Arrival and departure days can be flexible, all bed linen,towels and tea towels are included.

Please email jfoster@wanadoo.fr for further information or look at our website www.youneedafrenchholiday.com

Click on the email button to contact the owner for reservation or more information.